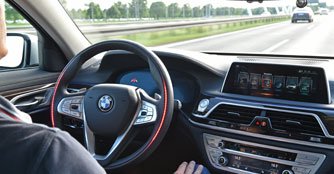 Personal mobility and its industrial application are on the brink of a technological quantum leap. The car and the technologies that make it tick are set to change more in the next 10 years than they have in the past 30 combined. The BMW Group sees itself as being well equipped to meet this challenge.
Over the course of recent years, the BMW Group has already demonstrated the basic essentials needed for autonomous driving at various events.
As long ago as 2006, a BMW 3 Series was already lapping the circuit at Hockenheim by itself, while automated prototypes from the BMW Groupstarted undergoing road tests on the A9 motorway between Munich and Nuremberg in 2011.
And since 2014, more advanced prototypes from the BMW Group have been equipped with 360° environmental sensing technology, giving them the ability to avoid accidents.
Automated vehicles are now even capable of parking themselves when prompted to using simple gestures (automated valet parking). The BMW Vision Next 100 is a visionary vehicle that incorporates all of these functions, at the same time as helping owners to manage their daily routine.
The BMW Group has in the meantime gone one step further: as a result of its acquisition of a stake in HERE in 2014 and it collaborations with Intel, Mobileye (since 2016) and other partners, the BMW Group has given the go-ahead for developing the BMW iNext for series production.
The BMW iNext will help move along automated and autonomous driving technologies to enable both the driver and the vehicle to share responsibility for controlling the vehicle, starting from 2021. The intention is to eventually reach a level of autonomous vehicle control in the years post-2020, where driver input with the steering and pedals is no longer necessary, and occupants will not be obliged to have any involvement with the control of the vehicle, otherwise known as the 'Driver Off' stage.
BMW will also roll out a total of 40 automated BMW 7 Series prototype cars to be tested under a number of conditions, mostly in motorway driving and in city centre environments. The tests will be conducted in three countries, the U.S.A, Germany and Israel by the end of 2017.